Livingston County MI's #1 Source for Custom Built Storage Barns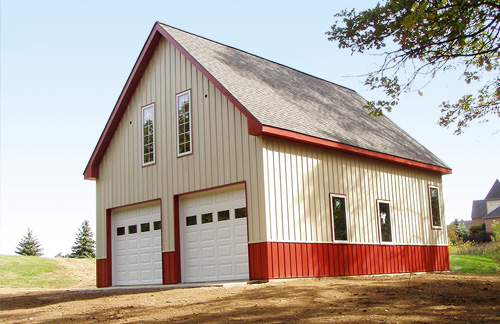 Burly Oak Builders is Livingston County MI's leading source for custom-built pole barns, horse barns, storage barns and garage spaces. Our barns are not built from kits or pre-fabricated. Every structure is custom built and designed to suit you. Your building design will be created in joint meetings with you and our team, where we work together to identify your desires and needs. We will then acquire the permits and perform all site work necessary to set a solid foundation for your new custom-built barn!
Our structures can be used for a variety of purposes including horse barns, riding arenas, training facilities, artist studios, workshops, offices, RV storage, and garages. Burly Oak Builders also offers home remodeling and additions construction services. From creating a unique design to the final handcrafted finishes, our expert craftsmen handle every aspect of building your perfect barn.
Our Commitment to Quality and Excellence Stand Strong
Burly Oak Builders is dedicated to providing you with excellence in customer service in everything that we do. Burly Oak Builders' experience in design and the detailed hand-drawn blueprints help us achieve a greater level of accuracy and concept realization. This, coupled with quality materials and craftsman who pay attention to every detail, ensures you of a job we will all be proud of. We believe customer service should always come first.
Livingston County MI's Leader in Custom-Designed Storage Barns
Whether you're looking to add a horse barn, workshop, garage, or artist studio to your property, a custom pole building designed by a high-quality pole barn building company can meet all your requirements with stylish design and quality materials. While many pole barn builders rely on pre-fab construction, we believe that only a wholly custom approach can achieve true customer satisfaction. From design to execution, Burly Oak Builders places an emphasis on excellence in both customer service and workmanship.
---
Hear what some of our satisfied customers have said about our work!
I highly recommend Burly Oak builders. From the beginning of the process, their competitive pricing and thorough outline of the work that was to be performed was amongst the best of the builders I met with. When the construction began, I was pleased to see the correct equipment doing the work as well as adequate hands in the field. This company does not cut corners and does things properly, leaving a stunning, well-constructed barn in the end. I am very pleased with their work and would have them build my next barn if I needed one. Curtis H., Howell, MI
My experience with Richard and his company Burly Oak Builders for the completion of my barn was as good as it gets. From the outset, I had an idea of the look I was trying to achieve but did not have all of the specifics as I am no designer. Richard helped me to achieve my goal of a fully functional storage and work barn which blended in beautifully to the surrounding area and neighbors. Bottom line: they did exactly what they said they would do, and on time with no surprises. His crew was courteous and friendly and took great care to clean up after the project was complete. I now have a barn which I love and continue to receive compliments about its appearance. Mark N., Chelsea, MI
---
Whether you're looking for a functional space to set up a workshop or you're in need of a well-built horse barn, Burly Oak Builders can customize the perfect space for your needs by collaborating with you on every element of the design. Contact our team today for a free consultation!